What is normal pressure hydrocephalus?
Normal pressure hydrocephalus, or NPH, is a condition that affects the drainage of cerebrospinal fluid (CSF) around the brain. This means too much CSF builds up inside the brain's ventricles (fluid-filled spaces). The condition mainly affects older people and symptoms can include: 
Problems with walking
Memory loss and cognitive impairment (difficulties with thinking)
Loss of bladder control
Normal pressure hydrocephalus can be misdiagnosed as Alzheimer's disease or other neurological conditions due to similar symptoms. Currently, the following tests may be used to diagnose NPH:
Gait (walking) tests
Cognitive assessment
Brain imaging (MRI or CT scan)
Lumbar puncture, drainage and/or infusion tests
REVERT involves sharing best practice among the project partners and exploring new ways of improving diagnostic accuracy.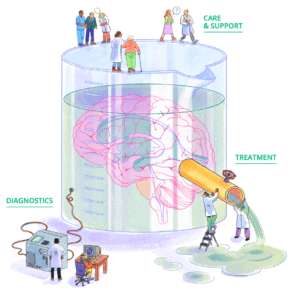 REVERT project leaflet for patients (English version)
Dépliant REVERT pour patients : version française