What is the REVERT project?
REVERT is a project aiming to address the unmet need arising from an important health challenge: dementia. Most forms of dementia are incurable, and its prevalence increases with age.
Normal pressure hydrocephalus (NPH) is a condition that is often mistaken for dementia. Unlike causes of dementia such as Alzheimer's disease, the symptoms of NPH can potentially be reversible. The aim of REVERT is to implement innovative medical tools developed by individual partners to diagnose NPH patients quickly and accurately as part of an integrated care pathway.
How will we do this?
We are combining PC-MRI and infusion tests for the first time
We are continuing to develop and train artificial intelligence models to predict xyz
We have established a one-stop multidisciplinary hydrocephalus clinic – patients at CUH have access to all their hydrocephalus assessment and diagnosis in one clinic, and can be referred for treatment
The hydrocephalus management portal will support patients with hydrocephalus by …..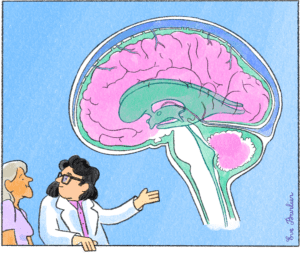 Who is involved in the project?
REVERT involves cross-border collaboration between hospitals, healthcare academia and industry. It is led by the University of Cambridge in partnership with the University of Picardie Jules Verne and the University of Artois; the university hospitals of Cambridge, Amiens, Brest and Caen; and a healthcare informatics company, Obex Technologies.
How is it being funded?
REVERT was launched in October 2020 and will continue until June 2023. It has a budget of €3.6m of which €2.5m is being funded by the ERDF (European Regional Development Fund) via the Interreg France (Channel) England Programme.